Boilermakers Local 647
Proudly serving Minnesota, North Dakota, and South Dakota since 1936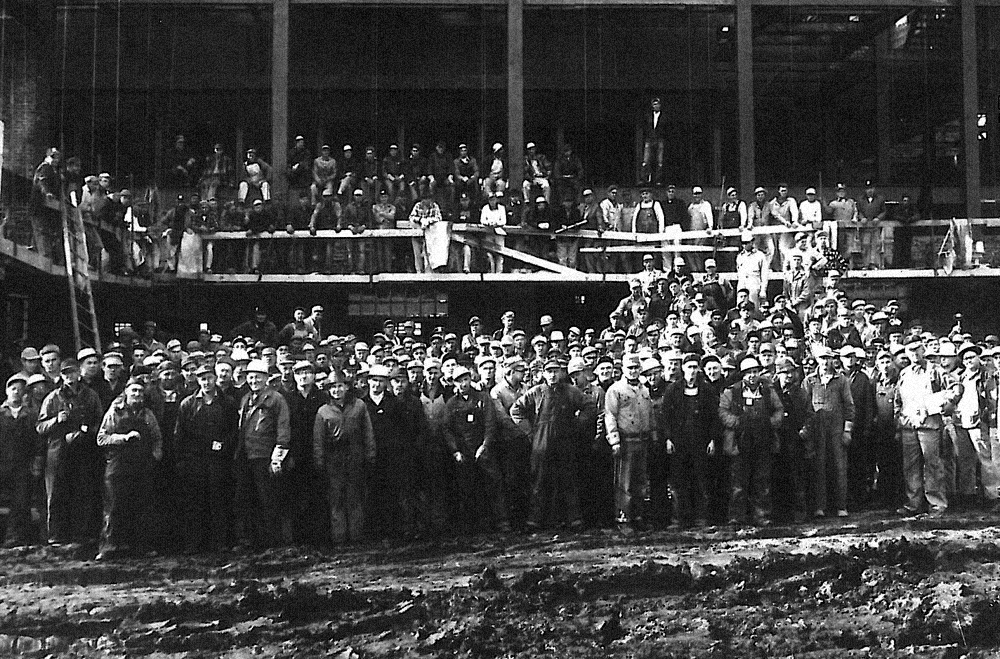 ---
Current

News and Events
Trades Women Build Nations
This year's Trades Women Build Nations will be a virtual event held on Saturday, October 17, 2020 at 11:00 a.m. (EST).  This event is free of charge.  Please click here for registration.
---
COBRA Subsidy
Please click here for information regarding COBRA Subsidy Approved by the Board of Trustees. Also, please click here for a sample notice with more information.
---
2020 Nomination and Election of Local Lodge Officers
Please click here for information regarding the waiver of meeting attendance requirements for eligibility for nomination and election.  Please click here for the nomination and election instructions.  Please click here for the mail ballot procedure.
---
American Income Life Layoff Waiver
Please click here for information regarding the waiver of premiums through American Income Life Insurance.
---
Important Benefit Reminder 
Amwell Online Healthcare is a great option for fast, easy, and secure healthcare from the comfort of your home, or anywhere else for that matter!  The Boilermakers National Health & Welfare Fund telehealth benefit allows individuals to have FREE electronic video visits with Amwell's online providers, who are available 24/7, by using the web or mobile app.
With Amwell you get an alternative to the traditional office visit or the long wait at an urgent care facility.  This benefit allows:
FREE

office visits for minor illness and counseling 24/7 from your smart phone or computer. 

Due to the COVID-19 pandemic, please anticipate longer than usual wait times.

 
Access to healthcare such as COVID-19 risk assessments, depression, anxiety, flu, cold, rashes, allergies, infections, and more!
Prescriptions (when appropriate), or referrals when needed.
FREE enrollment.  Visit www.amwell.comor download the app from the app store (IPhone) or google play (Android).   Use SERVICE KEY "BOILERMAKERS" to ensure your visit is FREE.  Check our website www.bnf-kc.comfor detailed instructions on enrollment.
The information described above is not applicable for individuals who have coverage under the Fund's Medicare Advantage Plan administered through United HealthCare (UHC).  These individuals can learn about the resources available to them www.uhc.com
---
Coronavirus Precautions
*Update 05/04/2020*
Effective May 4, 2020 our offices reopened, but with limited access. Please call in and set up an appointment to meet with someone or for explanation on access to the buildings. 
For more information on the Coronavirus please click the link below to the CDC. 
https://www.cdc.gov/coronavirus/2019-ncov/index.html
---
Covid-19 Resources and Links
Here are a few links that you can click on to help with some questions you may have regarding the Covid-19 crisis.
The first one is from the MN Building Trades, here you can find other links to resources regarding the MN Stay at Home Order and links specific to Union member resources.
https://mntrades.org/covid-19-resources/

These next two links are for questions you may have regarding filing for unemployment in MN and ND should you need to apply.
MN
https://www.uimn.org/applicants/needtoknow/news-updates/covid-19.jsp
ND
https://www.jobsnd.com/unemployment-individuals
---
Health and Welfare Funds Flash
Date: March 2020
To: All Business Managers and International Staff Boilermakers
From: National Health & Welfare Fund
Re: FUNDS FLASH – Trustee Action COVID-19 Hours
Due to the Novel Coronavirus (COVID-19) pandemic, today March 26, 2020 the Health & Welfare Board of Trustees have taken unprecedented action to ensure qualifying Participants do not lose Health & Welfare Plan coverage.
COVID-19 Hours – Effective April 30, 2020 to sunset as of April 30, 2022
A lump sum of 300 COVID-19 hours will be granted by the Trustees to qualifying Participants and is limited to one award per participant.
As of April 30, 2020, if:
Reserve bank hours are

less

than 600 hours, 300 COVID-19 hours will be awarded to continue coverage through July 31, 2020.
Reserve bank hours are

more

than 600 hours, 300 COVID-19 hours will be awarded as of the Eligibility Quarter in which reserve bank falls below 600 hours.  Any hours not awarded as of the sunset date will be forfeited.
Who is Included?
All qualified Participants eligible for the February 1, 2020 through April 30, 2020 Benefit Quarter under H/G/GR coverage (unless excluded below)
Must be covered by an Alumni Agreement, Collective Bargaining Agreement, or Participation Agreement.
Who is Excluded?
Participants whose coverage is not based on an hourly employer contribution rate (for example, premium based Active M coverage)
Active and Retiree Participants covered through COBRA continuation coverage.
Retirees who are eligible based on an Active Eligibility Earned award (SPD Article 12, Section 12.7.)
Retirees who have been awarded Social Security Disability Award (SSDA) and running out reserve bank.
Participants who are eligible through Disability Credit Hours (SPD Article 23, Section 23.1.) Dependents continuing coverage through Surviving Dependent Extension when running out reserve bank (SPD Article 22, Section 22.1.).
---
Election Update
The 2020 nomination and election of Local Lodge Officers have been postponed per the Int'l.  Below is the letter from Int'l President, Newton B. Jones, regarding the postponment:
To All Local U.S. Lodge Presidents, Business Managers, and Secretary-Treasurers
You are here hereby directed to read this communication at the regular July membership meeting and post in places where notices to all members are customarily posted.
Important Notice To All Members
Dear Colleagues:
My letter to the principal officers of local and district lodges in the United States, dated March 18, 2020, gave authorization for the principal officer of each subordinate lodge to cancel the March, April, and May meetings due to the spread of COVID-19 (Coronavirus).  This letter provides further instructions on how to conduct this year's nomination and election of local lodge officers.
In an effort to preserve the rights of our members to cast a secret ballot, as well as protecting their health, I am exercising my authority as International President to delay the nomination and election process by three (3) months.
Therefore, the nominations for local lodge officers shall be held at the regular monthly August meeting of the established election year (2020), unless otherwise approved by the International President.
Election of local lodge officers shall be held at the September monthly meeting, unless a special election date is approved by the International President; however, in cases of a special election date, the election shall be held during the month of September (2020). If the local lodge sets a special election date, the membership must be notified of the time set for holding such election. Quorum requirements shall not be enforced for any nomination or election meeting.
It is absolutely necessary that Article 25 of the International Brotherhood Constitution be strictly adhered to, with the exception of the months established within, in the nomination and election of local lodge officers in order to ensure that all local lodge officers are properly and legally elected.
This directive must be read at the regular July 2020 membership meeting, posted on the bulletin board or in a conspicuous place, and must be complied with in all 2020 elections. All other provisions of my letter to you dated February 24, 2020 remain in effect.
Under the circumstances, all principal officers, Election Committee members, and local lodge members are encouraged to practice the social distancing recommendations provided by the Centers for Disease Control and Prevention.
If you have any questions regarding the nomination and election process or this communication, please contact Tyler Brown, ED-ISO, or Mark Vandiver, ED-CSO, at International.
Trusting you will be guided accordingly and with best wishes, I am
Sincerely and Fraternally yours,
Newton B. Jones
International President
---
COVID-19 and Unemployment
The Executive Order issued by the Governor provides workers impacted by COVID immediate access to unemployment benefits. Please click the link below for more information.
https://www.uimn.org/applicants/needtoknow/news-updates/covid-19.jsp
---
Affinity Committee
Recently, our Local started an Affinity Committee.  All members are invited to come add your views and opinions to any of the Committee meetings. 
The Affinity Committee is designed to welcome all ideas and views our members have on how we as a Local can maintain, grow, and succeed as a craft in our evolving industry.
Please come and provide your input as we want and need to hear any and all thoughts and concerns regarding our craft and work environment.  Meetings are currently suspended for the time being. 
If you would like more information, please feel free to contact either Jessica Bruneau at: jessicabruneau@live.com or Justin Holzer at holzerjt@gmail.com.
---
Current MSHA
With the current economics, the mine production is at an all time high and is working at capacity.  We expect the heavy maintenance workload to continue .  Therefore, we would like to stress the importance of having a current MSHA.  There will be a few classes provided by the hall and you may also pay to get it at the Hibbing Community College. Please click here for more information on taking classes at the College.  If you do receive MSHA from another source, please let Rich know.
---
Pension Beneficiary Forms
Please click here for information on the new Beneficiary Designation Form for non-retired participants. 
---
EPRI
Attention Journeymen:
Local 647 is now an EPRI (Electric Power Research Institute) qualified certification center.  If you intend on keeping our ability to be riggers at our nuclear facilities, refineries or the Xcel fleet, you will need this qualification.  The qualification consists of a written exam and a hands-on exercise that needs to be done on our rigging structure at the Ramsey hall.  The written exam can be taken in Ramsey or Mandan and can be taken prior to the hands-on exam.  Once you have taken the written exam, you do not have to rush to get the hands-on done as there is no expiration date on the written.  To become qualified, you will need to do both.
There is a pretest available on the Boilermaker LMS website.  If you do not take the pretest, you most likely will not pass the written exam.  To take the pretest contact Rich, he will compile a list and we will get you registered on the website.  
We will have a crane available at least twice a year for the hands-on exam.  We can accommodate about 15 per day for that portion.  Get signed up for the written exam sooner than later for a shot at the hands on portion before we fill up.
Fraternally,
Carey Kowalski
---
Certified Welding Inspector Scholarship Program
The Executive Board and membership voted to start a Certified Welding Inspector Scholarship Program to assist members in attaining the Inspector certification.  There have been many requests from area contractors for Boilermakers with a CWI certification; and in recognition of this need the Executive Board and membership approved this program.  Please contact Luke for details if you are interested.
---
Justice for MN Terex/ASV Workers
Update 2020:
Yan Mar acquired controll of ASV/Terex.. The Company reached out to the NLRB and Union early 2020 in hopes of reaching a settlement.  The company sent out checks to 12 of the 13 illegally terminted employees. One employee doid not respond to the NLRB compliance offer.  Please click here for more information from the International. 
---
Insurance Eligibility Problems
If you are having insurance eligibility problems you need to go to the Boilermakers National Funds website and fill out a new Coordination of Benefits form.  Please click here for the website.
---
Financial Advisor
Anyone that is thinking of retirement or investing is encouraged to contact MassMutual Wisconsin. Please click here to see the products and services that are available as well as contact information.
---
 Want to be a Boilermaker?
Please click here for dates and times to apply to start your career as a Boilermaker. 
---
   Want to form a Union?
Are you interested in forming a Union within your workplace?  If so, please click here for more information.
---